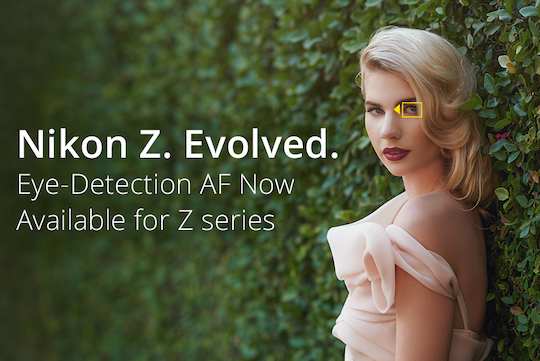 Some additional coverage on the new
Nikon Z6/Z7 firmware update 2.0
that includes:
Eye-Detection autofocus (AF) for still-image shooting
AF performance improvements in low-light situations
Addition of auto-exposure (AE) tracking capability to the continuous high-speed (extended) mode
First, the
Nikon Z6/Z7 Facebook group
is full with examples, feedback, commentary on the new firmware update. Definitely worth checking it out.
Nikon USA dedicated firmware update 2.0 page
:
Eye-Detection AF
Continuously tracks eyes, even when subjects move within the frame
Works in AF-S and AF-C focus modes
Intelligently recognizes the eyes of multiple people in the frame, giving you the freedom to choose which person and eye to focus on
Remains locked on the eyes even when face is partially or temporarily obstructed
Built on a legacy of Nikon autofocus and facial recognition innovations
Even Better AF Performance in Low Light
Faster, more accurate focusing indoors and for night portraits
Reduces the need to switch to Low-Light AF mode to acquire focus
AE Tracking in Continuous H+ (extended) Shooting
Auto Exposure (AE) continues to track in every shot throughout the entire burst sequence
New eye-detection AF digitutor videos:
Nikon released also new updated Z6/Z7 product videos:
Other Nikon Z6/Z7 firmware update 2.0 videos:


The post
Nikon Z6/Z7 firmware update 2.0 additional coverage
appeared first on
Nikon Rumors
.
Related posts:
Continue reading...